Pumpkins, Parsnips, & Apples: Autumns Bounties to Be Grateful For
Pumpkins, Parsnips, & Apples: Autumns Bounties to Be Grateful For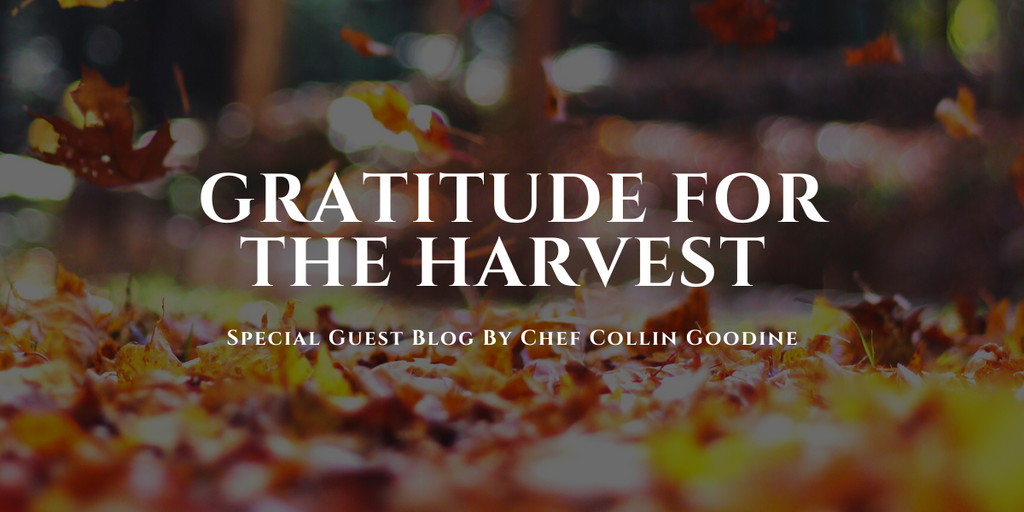 When the summer months slowly fade, and the days get shorter by slowly transitioning into fall, I am filled with gratitude for the harvest that the earth brings. 
As a Chef with a deep passion for integrating food as a preventative medicine, I get excited about autumn's fruitful bounty.  
Autumn in my home brings with it an appreciation for the hard work mother nature and local farmers put in during the hot summer months to provide the foods that will give our bodies nutrient dense foods to keep us warm, energized and satiated through cooler months. 
Our light arugula, avocado, quinoa and pickled onion salads are quickly replaced with Roasted root vegetable and mung bean kitchari, or silky, almost velvet like tuber vegetable soups. 
The cool power packed berry smoothies inevitably become warm digestion calming teas to clear the mind and gut.
It is almost as if our bodies instinctively know the winter is coming.
Throughout my long cooking journey I have noticed a pattern with most individuals that is very interesting. As weather changes, we start to habitually lean towards comfort foods like baked goods, breads, chili, stews and satisfying one-pot dishes. 
I could suggest there are a few reasons for this shift in eating habits, and the instinctual desires to ingest the familiar foods or child hood favorites, but we need to be mindful of our health when we do so. 
This fall, try to use the change in season to make a small shift in your lifestyle and reduce the gluten, dairy and refined sugars, thus promoting a disease preventing lifestyle.  
Take care of your future you.
Cranberry Elixir
Ingredients
1 slice of ginger
1 Cinnamon stick
2 pods of star anise
6 cloves
1 apple
½ pomegranate
½ pack cranberry
1 lemon
pinch of cayenne
1 cup water
Method
Juice the cranberries, pomegranate, apple, ginger and lemon 

Add them to a pot with the water

Add the other ingredients to the pot and simmer for 1-2 minutes

Steep for 2 minutes, strain and enjoy

Or place into the fridge and enjoy it cold. 
Parsnip and Roasted Apple Soup
Ingredients
1-cup cashews (soaked)
1 tsp. Thyme (chopped)
½ tsp. Nutmeg
1 leek (washed and diced)
1 Onions (diced)
4 stalks of Celery (diced)
½ fennel bulb (diced)
6 cups Vegetable stock
1 tsp. ginger
1 tbsp. Dijon mustard
1 tsp. black mustard seed
1-cup nut milk
1 lb. parsnips 
2 pears 
2 Apples 
Garnish ideas for the bowl
Walnuts (crushed)
Walnut oil
Vegan blue cheese
Croutons (Gluten Free)
Method
Peel parsnips and take of the tops and tails

Core all the apples and pears

Place the apples, pears and parsnips onto a baking sheet lined with parchment paper.

Sprinkle them with salt pepper and cinnamon then place into an oven at 400F for 10-15 minutes

In a large thick bottomed pot add 2-3 tbsp. of olive oil and heat on medium heat for 1-2 minutes

Once the oil is heated add the onions, fennel, and celery. Sautee until the onions are slightly tender. (about 5-7 minutes)

Add the ginger, garlic, nutmeg, mustard seeds and Dijon

Heat for only another minute or 2. 

Add the vegetable sock and apple cider and bring to a boil

Turn the soup to a simmer and for 5-10 minutes. 

Add the parsnips, apples and pears

Once the mixture comes to a boil again and all the vegetables are soft, turn of the pot and allow to sit 5 minutes

Ladle the soup into a blender and puree until smooth, and continue to do so until all the soup is pureed completely and place back into the pot.

Bring back to a simmer and add the thyme, salt and pepper to taste. 

Bowl the soup and garnish with your favorite nuts, a sharp Vegan blue cheese and crispy Gluten free croutons.
Roasted Pumpkin Cookies
Ingredients
Dry
1 ¼ cups GF all purpose flour (or your own house blend)
¾ tsp. baking powder
½ tsp. baking soda
½ tsp. cinnamon powder
¼ tsp. ground cloves
¼ tsp. ground nutmeg
½ tsp. seas salt
2 tbsp. pumpkin seeds
Wet
Vanilla from 1 bean or ½ tsp. extract
¼ cup coconut oil (melted)
¼ cup maple
½ cup roasted pumpkin puree
5 tbsp. nut milk
1 tbsp. chia seeds
2 tbsp. water
Caramel
4 medjoul dates
3 tbsp. coconut oil (melted)
2 tbsp. almond butter
Dash of vanilla
1 tsp. honey (Optional)
4 tbsp. water or nut milk
1/3 cup soaked cashews
Method for Batter
In a large bowl place all the dry ingredients 

Add the water and the chia seeds together and mix. Let it set into a gel type consistency

Once set add that and the wet ingredients and mixt together well

Add the dry ingredients to the wet and mix with a wooden spoon or stand mixer until it comes together to form a cookie dough consistency

Preheat the oven to 350F 

On a baking sheet lined with parchment paper start to place the cookie batter in small mounds 1 inch apart until the tray is full

Place into the oven and bake for 15-18 minutes. The cookie will have a light golden color on the bottom and have a cake like inside. 

Adjust your timing for the next batch based on the first one. Each oven is different

While the cookies are cooling make a quick caramel

Take the pit out of the dates, rip them up and soak them in the nut milk for awhile

Place into a blender and puree on high until smooth

Serve the cookies on a platter with the caramel on the side to dunk into, or drizzle the caramel over the cookies.

Enjoy
Chef Collin Goodine:
My culinary career started well before I knew that I even wanted to be in the food service industry. At the early age of 14 years old I worked along side my Mother, aunts and Grandparents picking peaches and pruning the grapes in our small town.  I did not know then that the lessons I was learning would play such a huge role in my life 30 years later.
Every Summer I worked on the farms and each winter I worked in local restaurants washing dishes and cleaning floors till early hours of the morning to help pay for my sports, clothes, and anything else I wanted to do throughout high School.
This routine continued until I was done high school, and ready to spread my wings in the field of mechanical engineering.
At 19 years old I was drafted by a professional Lacrosse team and thought that life was about to begin on a magical journey……when it went sideways and I was forced to continue on in the dishwashing job.
My dreams of professional sports or engineering were stopped dead in its tracks and so began my culinary career.
I worked quickly through the ranks in the unglamorous world of cooking from a prep cook to Executive Chef of some of the worlds best restaurants, and at the age of 30 I thought that I had climbed the top of my mountain and was going to reap all the benefits of my hard work.
I had made it, but it came with a price,… I manifested a terrible habit and I was in awful health on the inside., I had a drug habit, smoked 1-2 packs of cigarettes a day, barely slept, and drink heavily every night.  My nutrition was an afterthought as there was no time to worry about food for myself, only food for the guests.
There is a side no one sees of the culinary world that is very ugly, and produces misunderstood misfits with addiction problems, terrible attitudes and large egos.
When I was 36 I decided to leave everything, and lived out of a hotel room with nothing to show for anything I had contributed to the world or my career.
At the time I was the Executive Chef of a World class winery and lived in a run down hotel and ate food from a convenience store, how ironic.
That year, at the Age of 37, I was reunited with an old friend,(who is now my wife) in the most unexpected location at a job I had no business doing, but it was perfect.
She single handedly motivated me to be better, and inspired me to start 2 very successful businesses. I began to travel,  and began to  understanding my true meaning in life.
My business thrived on the intent to help others and make them happy through food. And I did that.
By 40 I was healthier then I was when I was playing lacrosse at the age of 20. I had quit smoking and doing drugs, I started to work out regularly,  I was sleeping 6-8 hours a day, and I was eating proper meals in a calming environment. 
For the second time in my life I thought that I climbed to the top of my mountain.
4 years later in 2020, Covid-19 forced the world to stop and I could not hang on to the businesses. Everything I had worked towards was taken and I was left with the decision of what to do.
Resilience pushed me to continue my quest to serve others and make them happy with food, so I started my own D2R journey.
I dedicated the next 6 months to learning plant based nutrition, high end vegetation foods and the Ayurveda principles of cooking. This new found  fascination combined with my passion, experience and love for food propelled me to to have the desire to heal others, and teach them how to heal themselves through food.
Now I am obsessed with healing and teaching the arts and science behind balancing your body and mind through delicious food.
To Learn More About Chef Collin Goodine Visit Here or follow him on Instagram here for incredible recipes and beautiful food!